Q: What is the Card Verification Number for?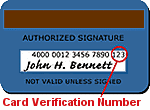 Because credit card fraud is increasing at an alarming rate, many online merchants are now requiring you to enter the 3 digit authentication number found on the back of your credit card. This ensures at the very least that you must have the card in your possession at the time of purchase.
We want your online transaction to be safe and secure, that's why we require the Card Verification Number with credit card payments.
Still have billing questions or problems? Please contact the Billing Department and someone will respond quickly to your problem.